REIN INS VERGNÜGEN
Welcome to
Eurostrand
For more than four decades, we and each of our employees have stood for unique leisure experiences that combine joy, enjoyment and relaxation.

Our two resort facilities on the Lüneburger Heide and Moseltal offer the best conditions for this: high-quality resorts in an idyllic environment with pleasant rooms, excellent gastronomy with varied themed buffets, swimming pool with attached wellness area and creative entertainment program for an unforgettable stay in the Eurostrand.
Evening atmosphere in Fintel.
4*-COMFORT
Not only is EUROSTRAND our name, but the first resort was originally built lake.
The subtitle "Erlebnisland" is no coincidence either. The well-kept green around the houses is one of our figureheads. In Fintel there are also extensive gardens for some houses.

In addition to the houses, studios and suites of various sizes, whether in Fintel or Leiwen, there are large event halls for shows and entertainment, pools and wellness areas, pubs, bars and restaurants, boutiques, supermarkets, mini golf courses, bowling alleys, tennis courts, and bicycle rentals much more. Perfectly tailored to your needs - whether party tours or senior trips.

Eurostrand breakfast world trip.
GASTRONOMY
Whether 2 nights, a whole week of pampering or a holiday with your children, whether a menu with fine wines or freshly baked waffles with coffee - enjoyment at EUROSTRAND is always perfect.
Let yourself be pampered by our varied buffets and our team, we offer you the best of our kitchen and cellar. In addition to German cuisine, many international dishes are presented and the latest trends are presented at the street food buffet on Saturday evening. Only high quality ingredients are used and we offer many branded drinks. With Premium All Inclusive, nothing is left to be desired during your entire stay.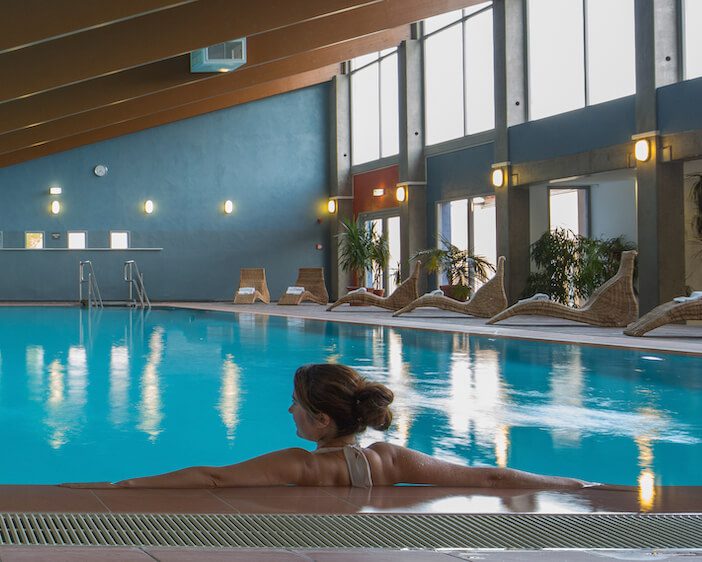 Indoor pool, saunas, massage and more.
SPORT & WELLNESS
Use our swimming pool with adjoining wellness area to simply escape everyday life, let yourself drift and relax. Swim your laps or relax with a sauna. Our invigorating, aromatic infusions provide that extra portion of relaxation. Whether steam bath, bio or Finnish sauna (Resort Lüneburger Heide) our wellness area offers holidays for body, mind and soul.
The spacious outdoor and relaxation area invites you to relax and to round off the pampering program, we recommend a massage with our wellness masseuse. Whether it is a head, back, foot or full body massage, we will do everything to ensure that you become really relaxed again and get new energy.
This is the greatest Show.
ENTERTAINMENT
All employees of the EUROSTRAND entertainment team are not only well trained, they also really enjoy interacting with people. You can feel that every day: at the many games, competitions and sporting tournaments that you can take part in, but not have to.
And when the curtain opens in the evening, there are artists on stage who have been preparing for their performance for a long time. Only when you, as our guests, are really enthusiastic about the show, then the years of training have paid off. Sit back and enjoy the shows!

OUR EUROSTRAND-MOMENTS
With us, everyone has the opportunity to experience their own moment in order to fulfil their longings and wishes.
Get to know us
BECOME PART OF EUROSTRAND
Do you rely on open communication, mutual respect, willingness to help and team spirit and do you like to get involved on your own initiative?
View job offers
BE PART OF THE COMMUNITY
Follow us on Facebook and don't miss out on any news, specials and promotions! Connect with fellow guests, your new Eurostrand-Friends and more.
Eurostrand on Facebook
THIS IS WHAT YOU CAN EXPECT AT EUROSTRAND
Excellent 4*-accommodations.
Save smart with the early bird discount!
Premium All-inclusive offers- pure enjoyment!
Extensive sports and wellness offer.
Great party weekends with changing themes.
Leisure activities for the whole family.