PARTY TIME AT EUROSTRAND
Your party weekend with premium all-inclusive
Easy arrival
Just get on our FUN EXPRESS chartered for you and dance with your friends on the dance floor. So you get into a party mood before you arrive.
Premium all-inclusive
Everything is included for you: freshly prepared food and drinks, live music, entertainment program bowling and much more!
4*-resorts
Live in your own house! Our 4 * resorts offer you the right houses for every group size – alone, as a couple or with the whole group of friends
PERFECTLY HAPPY
Start into the weekend perfectly happy: With our Premium All-inclusive program you don't have to worry about anything the whole weekend.
From Friday to Sunday, the mood is esuberant: night owls can turn the night into day in the disco and with the live band and toast to friendship with a fruity cocktail: "Cheers to us!". After a restful night in a comfortable 4*-room, everyone meets in the morning for a big late riser brunch. Afterwards you can relax in the sauna, go bowling, go on a city trip, cheer on the show acts and feast on street food from the international cuisine until the party continues in the three party areas. From delicious buffets and the spectacular entertainment program to the use of the leisure facilities of our resorts and the excursion on Saturday, everything is included in your party weekend. The motto is: one price, all in!

CINEMATIC RECEPTION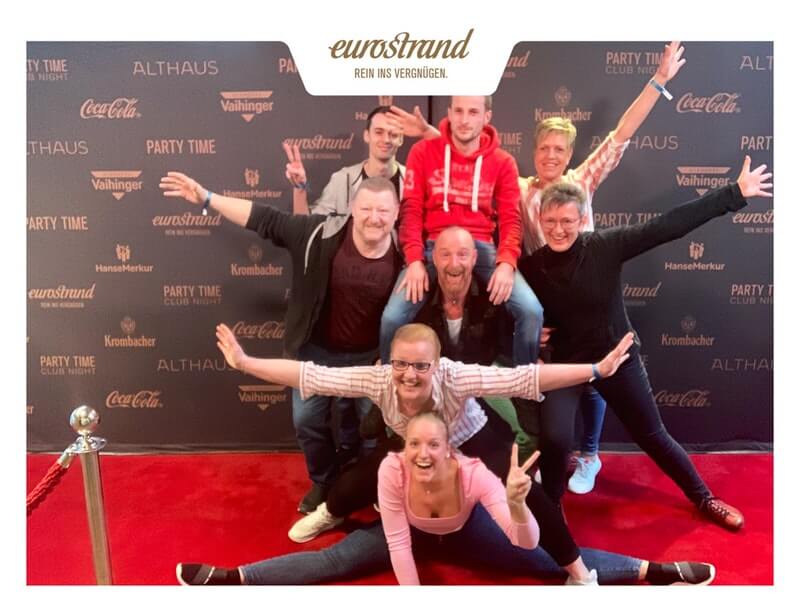 Before the weekend really gets going, snap souvenir photos on the red carpet and feel like world stars. Share your photos with the loved ones who stayed home and then it's on to the real thing.
On the dance floor, the Eurostrand DJ will heat you up with the best bass and beats, while you let the feelings of happiness carry you. You dance together in different party areas, the live band shows off the best hits and together you toast to the already unforgettable weekend.
You are the stars of the evening
FRIDAY
| | |
| --- | --- |
| 3 pm | Arrival |
| 4 pm - 6 pm | Get Together with aperitif and snacks |
| 6 pm - 8 pm | Dinner |
| 8 pm - 2 am | Party in two party areas with live music and DJ. NEW: Every Friday is Ladies Night! |
| | The choice of music belongs to the women. The DJ looks forward to your music requests, ladies! |
SATURDAY
| | |
| --- | --- |
| 8 am - 1 pm | Brunch buffet |
| Afternoon | Entertainment program |
| 6 pm - 8 pm | Streetfood dinner |
| 8 pm - 2 am | Party in 3 party areas: Live band, disco with DJ, the cult bar at Resort Moseltal and the rock area at Resort Lüneburger Heide |
SUNDAY
| | |
| --- | --- |
| 8 am - 1 pm | Brunch buffet |
| From 10 am | Good Morning Lounge |
| 11.30 am | PARTY TIME final |
| 1 pm | Departure |
4*-COMFORT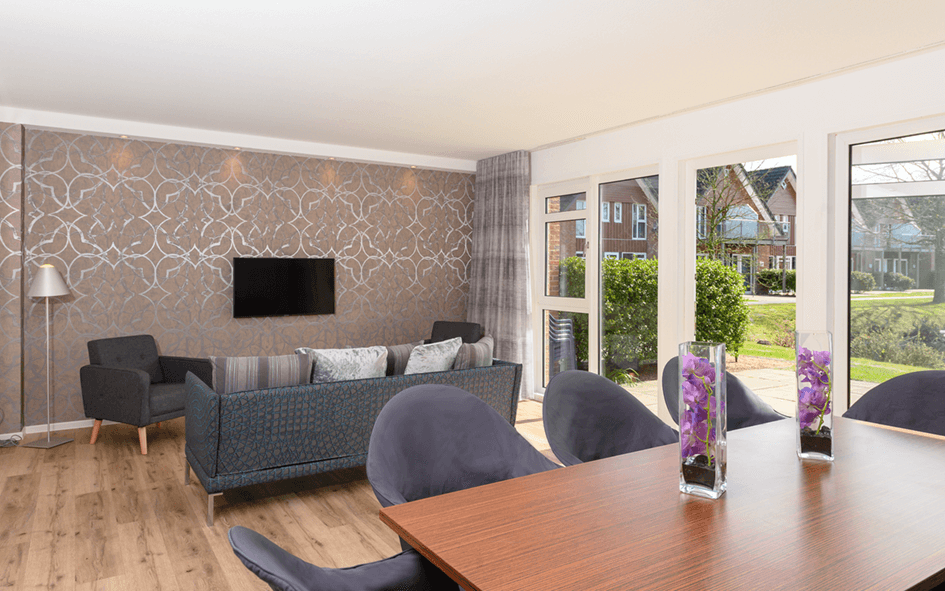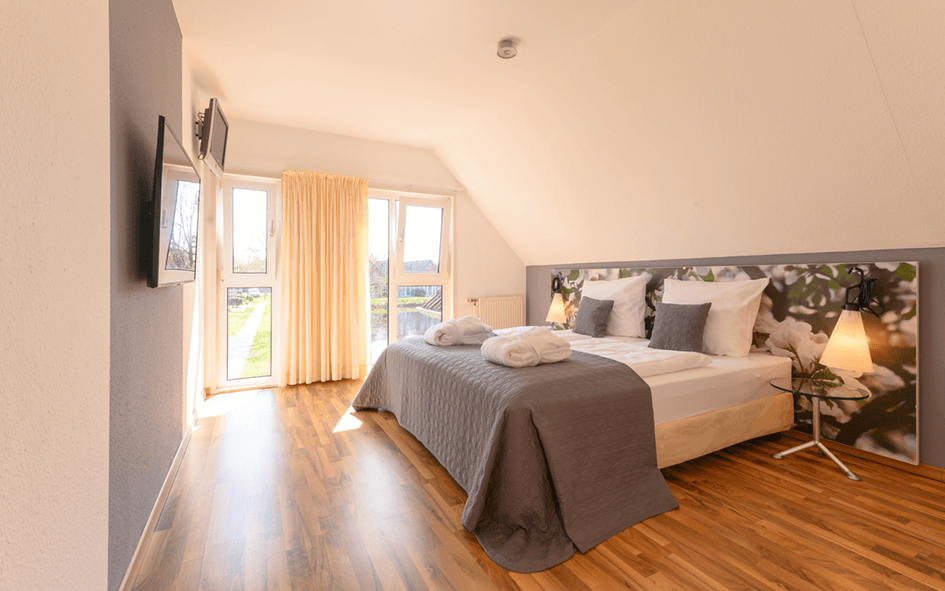 Houses for every group size
As a group, you can stay together in your own house. Our 4*- resorts offer you the right houses for every group size.
From standard to comfort rooms to suites, our resort houses offer every guest the right accommodation. Our rooms are equipped with single beds that stand together, but can be pulled apart if necessary, and an en-suite bathroom. There is also a common living area in the house where you can meet up with your group.
In order to make your stay with us even more enjoyable, we put a lot of heart and soul into the renovation of our houses. With trendy designer furniture, tasteful floors and stylish wallpaper, the modern rooms ensure a homely feel-good atmosphere. Everything has been thought of here!
PARTY FOR THE PALATE
Good food, good mood
Later riser brunch
There is no better way to start the day as with our late riser brunch buffet. The wide variety of baked goods, cheese and cold meat specialities, jams and many other spreads leave no one hungry. After the first rounds of breakfast, the buffet is filled with delicious lunch dishes. Bye-bye hangover!
Street food
Our street food buffet transforms the Eurostrand every Saturday into a culinary festival of taste! The kitchen team brings you the most diverse countries to the resorts and pamper you with the latest street food trends. Try out dishes like wraps, burgers or the Thai Tom Kha Gai – vegetarians don't miss out either!
Dinner
So that no one hast to start the party weekend hungry, the creative team from the kitchen will provide you in the evening with a rich evening buffet where you can expect hearty meat dishes, appetizing salads and sweet desserta with fresh fruits. Our live cooking station, where our chefs prepare the food in front of your eyes, is the highlight of the buffet.
PREMIUM ALL-INCLUSIVE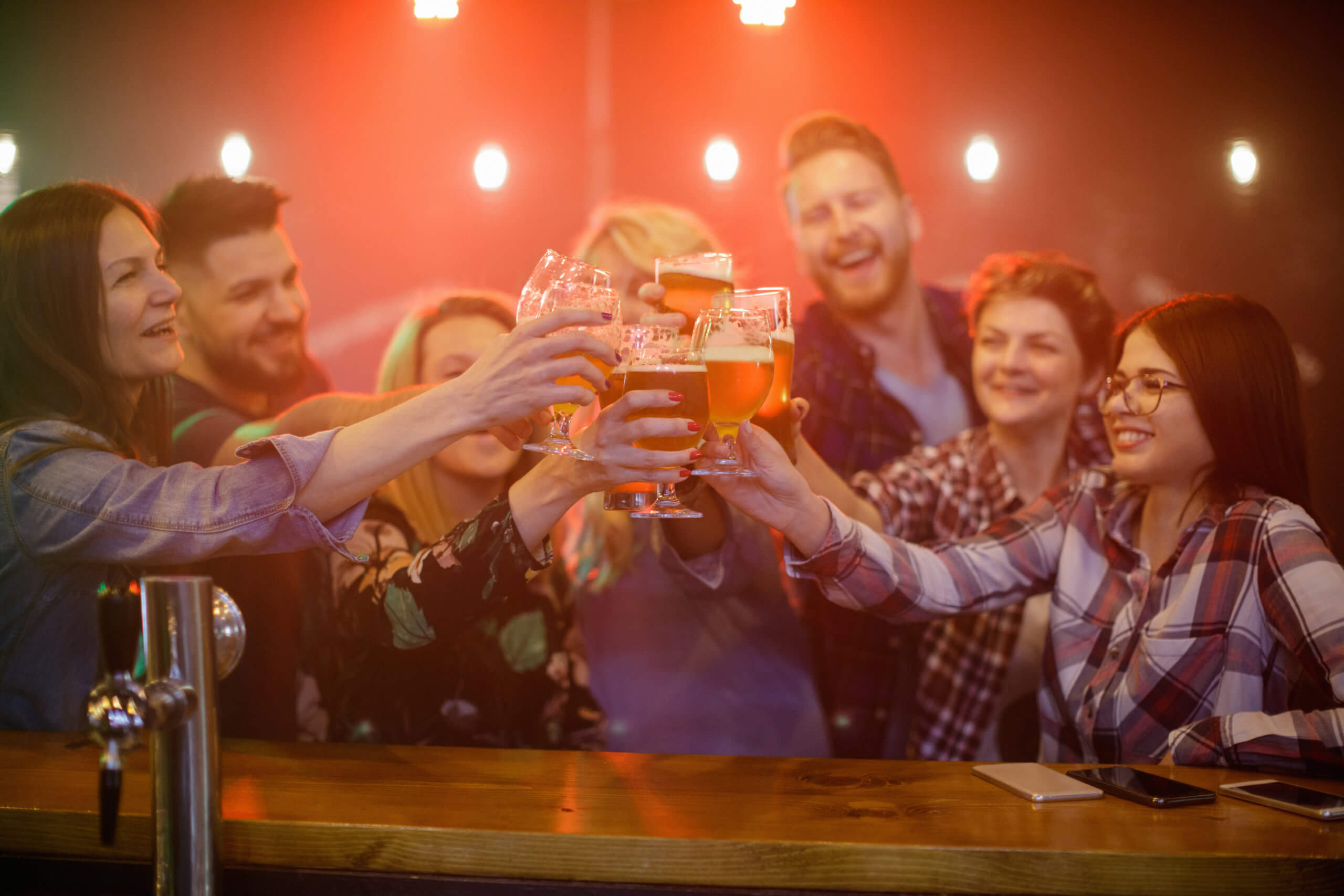 What you can expect
Overnight stays in a 4*-resort
Brunch and evening buffet
Midnight snack
Saturday street food with pulled pork burgers, Spanish tortilla, Vietnamese phô soup and other international dishes
All non-alcoholic and alcoholic beverages
Party area with live band
Disco Area with DJ
3 party areas on saturday: Cult club at Resort Moseltal, Rock area at Resort Lüneburger Heide
Entertainment program
Tombola on sunday
Planned carriage ride at Resort Lüneburger Heide*
Half-day excursion, e.g. from Resort Moseltal to Trier or Bernkastel-Kues and from Resort Lüneburger Heide to Lüneburg*
*For stays of at least two nights. Subject to change.
ALL DATES AT A GLANCE
Can't agree on a date? Then take a look at our PARTY TIME Specials. From our spectacular White Party to the Oktoberfest weekends and the big After New Year's Party, you will find anything here! Our PARTY TIME Specials take place in the Lüneburger Heide resort and in the Moseltal resort.
OKTOBERFEST
Pack your traditional costumes and celebrate Oktoberfest with us on six (!) weekends. True Bavarian fashion in Moseltal and Lüneburger Heide.
September 3rd – October 10th, 2021
XMAS PARTY
Merry and bright! With festive decorations, we dance to the most beautiful Christmas hits in true Christmas spirit. Can you hear the jingle bell?
November 26 and December 3rd, 2021
THE ORIGINAL
If there is no PARTY TIME Special, then celebrate with us the much loved "original" PARTY TIME. Come as you like, wear what you like and bring who you like. We are looking forward to seeing you.
ARRIVAL
The party can begin
Our especially chartered train offers departure points between Rheine and Cologne to the Resort Moseltal and from Cologne to Osnabrück to the Resort Lüneburger Heide, the party starts as soon as the train leaves the platform! Get in your compartment in the FUN EXPRESS or mix and mingle to your favourite party hits in the dance floor carriage! Arriving at Eurostrand, the new party friends have already been found and freshly prepared drinks served. Finally: PARTY TIME!
HANNOVER & HAMBURG SHUTTLE
The arrival and departure with the Eurostrand shuttle buses to the Lüneburger Heide resort from Hamburg (32 euros p.p.) and Hanover (44 euros p.p.) is a cheap, yet comfortable alternative for city dwellers or anyone who wants to combine their weekend party with a city trip.

Your party weekend at Eurostrand starts as soon as you get on the bus. This organised bus journey offers all group members an easy journey on fixed routes to the resort. When the return is due on Sunday after PARTY TIME, tired party people are particularly happy about the comfortable bus journey home. You can find more information in the information material or simply ask our reservations team on 040 22 633 43-0.
Resort Lüneburger Heide
from the western part of Niedersachsen
Departure: Lingen - Oldenburg - Ganderkesee from 62,- EUR p.P.
Dates: on selected weekends
from Nordrhein-Westfalen
Departure: Mönchengladbach - Essen - Dortmund - Hamm - Bielefeld
from 62,- EUR p.P.
Dates: Rides on all weekends without Fun-Express
from Nordrhein-Westfalen
Departure: Duisburg - Gronau - Rheine - Osnabrück - Vechta
from 62,- EUR p.P.
Dates: runs every weekend
Resort Moseltal
from Nordrhein-Westfalen
Departure: Coesfeld - Duisburg - Düsseldorf - Cologne
from 62,- EUR p.P.
Dates: runs every weekend
We look forward to you.
Book by phone on 040 22 633 43-0
or right here!